With an ever increasing amount of technology, networks, servers and solutions, it becomes more important to monitor all aspects of our systems. Network monitoring gives us a real-time picture of the health and maintenance requirements of our systems and assists us with  IT performance monitoring.
Over the years, we have investigated and found many ways to monitor computer systems. Most modern operating systems produce logs that do well to "remind or give warning." Additionally, Windows Server operating systems have a functionality called Performance Counters. Using Performance Counters on a server allow us to do some observing, detecting, and recording of the operation of a machine or system that we may need for the management of our systems. The only problem is that while these are great tools (and at no cost), Performance Counters can be troublesome to use. Often times they are not sufficient at providing historical trend analysis without substantial examination. Their real strength is real-time monitoring, which is great, as long as you are watching that particular system.
The networking monitoring tools we prefer
PRTG Network Monitor (from Paessler) is our product of choice for complete comprehensive monitoring. Over the years, it has been used for historical and trend analysis, problem determination and solving, and real-time monitoring. The software requires a physical or virtual server (or even a Windows 7 desktop box in a pinch!) for installation and can be easily accessed using a web browser, Windows client, or available phone app (Andriod/IOS). These features allow you to use the monitoring capability from anywhere the internet is available.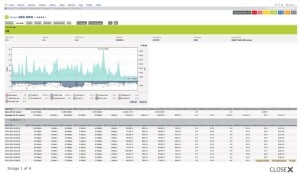 PRTG uses an element called "sensors". These "sensors" can monitor the physical or logical components of almost any computer hardware, operating systems, and networking equipment. The sensors primarily use SNMP, WMI, or ICMP protocols. New sensors are continually added with each new release version of the software to keep up with the industry.
The software is licensed by the number of sensors you need, starting at 500. A typical server, or networking device, may take from 1 to as many as 20 sensors depending upon what you want to monitor. Please feel free to contact Source One Technology for more information, procurement, or implementation of PRTG Network Monitor!