IT Infrastructure Services
Server administration
Source One Technology's proactive administration service keeps your hardware and operating systems in the best condition possible. Not only does this prolong the useful life of your equipment, it also improves the performance and stability of your network.
Server support
Source One Technology's experts can design, build and manage your server infrastructure across different vendor platforms – including HPE, Dell, Lenovo, SuperMicro, Cisco UCS, or other brands.
Our teams of senior engineers can provide services relating to new server builds (physical or virtual), direct server migrations, in-place upgrades, consolidation and retirement, application installs, basic/advanced administrative tasks within the operating system, creating/updating documentation for your server environment and roles, and also diagnose operating system or hardware failures.
Also remember that an ounce of prevention is worth a pound of cure, so we can perform a range of tasks at agreed upon intervals on your servers. These include installing OS updates and patches against known vulnerabilities, configuring Windows firewalls and system backups, and monitoring hardware performance and thresholds with proactive reporting capabilities.
Once our server support project is completed, we can either hand over to your internal server team or continue to help maintain and manage your servers for you.
Our server administration services cover:
Windows servers
Windows Server 2022, 2019, 2016, 2012, 2008, 2003 and Small Business Server.
Linux servers
Ubuntu, Debian, Redhat.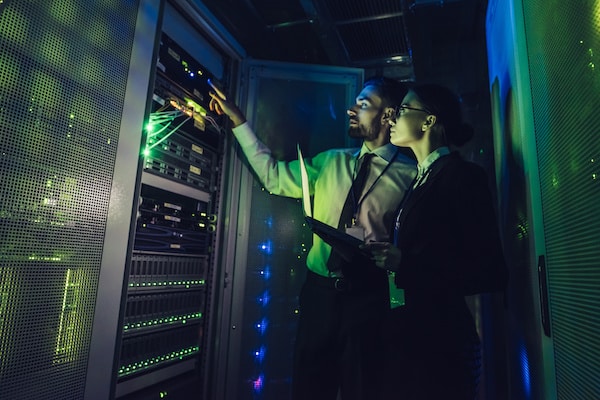 Working with us
Every organization is unique, and so is the service we provide.
Peace of mind
With Source One Technology, you won't be locked into any service contracts.
Trusted partner
Unlike most vendors, we won't try to upsell you expensive and unnecessary solutions; instead, we work to provide right-sized solutions that minimize your need to rely on us – partnership without salesmanship.
No middle person
We've completely eliminated the "sales" role in our business model; when you call, you'll speak directly with one of our network engineers – no sales-speak, and no unnecessary tech-speak.
Exceptional service
We believe our greatest asset is our team of skilled and personable people who are committed to bringing you the best possible service and personal touch.
Long-term value
By consistently striving to deliver affordable solutions and far-reaching results, we have achieved a 98%+ client retention rate.
See our approach to helping you succeed.

Source One has been instrumental in helping Pferd with all of our IT needs, and has been a valued partner for years. Their attention to detail, quick response time, and ability to help us with anything we need, has made them an integral part of our business. Their knowledge, fair pricing, quick support, and friendly service make them valuable to anyone who needs additional support.
Tony Hamilton
Systems Administrator III
Pferd, Inc.