Business Management
Virtual CIO
That's where Source One Technology's Virtual CIO role can help. Our team includes experienced candidates that can offer executive-level guidance and allow your organization to gain all the benefits of having a CIO without the high premium salary and cost that is normally associated with it.
Responsibilities range from staff/personnel evaluation, creating/updating budgets, advising on infrastructure, security improvements and compliance, strategic planning, internal processes, and much more.
Our Virtual CIO services include::
Strategic vision
Assisting with the organization's strategic vision, growth/expansion of company initiatives for individual business units or facilities, etc.
Recommendations
Providing ongoing recommendations for continual improvements within the IT department and various related IT processes and tasks.
Budgeting
Managing or assisting with the yearly IT budget and providing recommendations for hardware refresh cycles, etc.
Vendor relationships
Supporting strategic partner relationships with 3rd party vendors.
Staff/Personnel evaluation
Ongoing evaluation of the current IT team members' skillset and job roles/duties.
Security and compliance
Provide input and direction on security, regulatory, and compliance matters.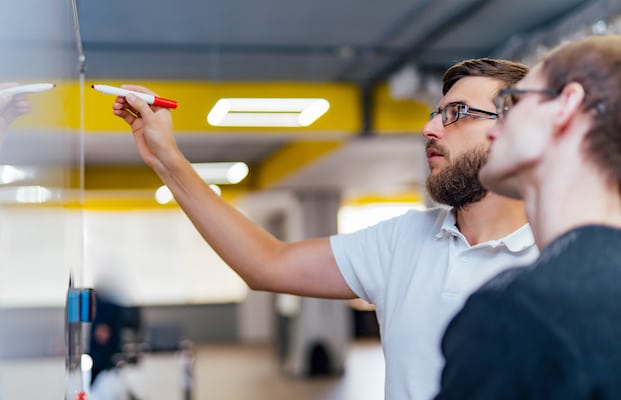 Working with us
Every organization is unique, and so is the service we provide.
Peace of mind
With Source One Technology, you won't be locked into any service contracts.
Trusted partner
Unlike most vendors, we won't try to upsell you expensive and unnecessary solutions; instead, we work to provide right-sized solutions that minimize your need to rely on us – partnership without salesmanship.
No middle person
We've completely eliminated the "sales" role in our business model; when you call, you'll speak directly with one of our network engineers – no sales-speak, and no unnecessary tech-speak.
Exceptional service
We believe our greatest asset is our team of skilled and personable people who are committed to bringing you the best possible service and personal touch.
Long-term value
By consistently striving to deliver affordable solutions and far-reaching results, we have achieved a 98%+ client retention rate.
See our approach to helping you succeed.

Source One has been instrumental in helping Pferd with all of our IT needs, and has been a valued partner for years. Their attention to detail, quick response time, and ability to help us with anything we need, has made them an integral part of our business. Their knowledge, fair pricing, quick support, and friendly service make them valuable to anyone who needs additional support.
Tony Hamilton
Systems Administrator III
Pferd, Inc.