Cybersecurity and Business continuity
Data backup
With Source One Technology's data backup services, you can rest assured that your information is always safe. We strongly encourage our customers to follow the best practices guideline of using a 3-2-1 backup solution which includes:
Three copies of your production data (at a minimum).
Two different types of media.
One copy stored off-site (at a minimum).
A backup solution meeting these requirements gives you the best chance of a successful recovery. Whether you choose to backup locally, off-site, in the cloud, or a combination of all three, we can monitor and manage your backup system for you.
Backup services
After understanding what you are trying to achieve and recommending the best options available to you, our specialists will implement the backup solution for you. We use industry standard backup software and solutions from vendors such as Veeam, Datto, and others, depending on your specific needs and requirement. Once your backup solution has been configured and is working properly, we can either hand over to your internal server support team or continue to monitor and manage this for you, freeing up your time and staff.
Our data backup services include:
Local backup
Options to store data locally for near instantaneous recovery of deleted files.
Off-site backup
For added security, data can be replicated to designated off-site storage facilities.
Cloud backup
Protect your data in secure cloud services for anytime access and recovery.
BaaS
Backup as a Service plans where Source One Technology manages, monitors, and performs all the backups for your organization.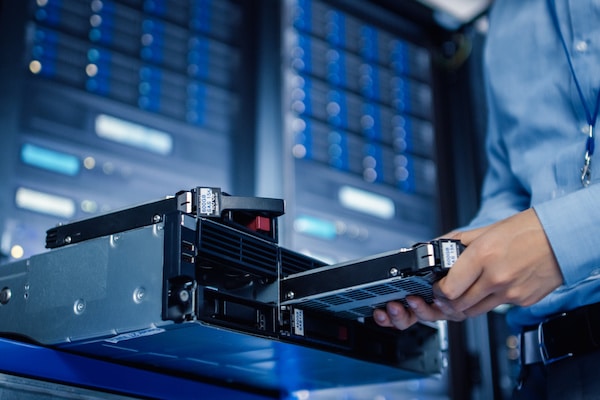 Working with us
Every organization is unique, and so is the service we provide.
Peace of mind
With Source One Technology, you won't be locked into any service contracts.
Trusted partner
Unlike most vendors, we won't try to upsell you expensive and unnecessary solutions; instead, we work to provide right-sized solutions that minimize your need to rely on us – partnership without salesmanship.
No middle person
We've completely eliminated the "sales" role in our business model; when you call, you'll speak directly with one of our network engineers – no sales-speak, and no unnecessary tech-speak.
Exceptional service
We believe our greatest asset is our team of skilled and personable people who are committed to bringing you the best possible service and personal touch.
Long-term value
By consistently striving to deliver affordable solutions and far-reaching results, we have achieved a 98%+ client retention rate.
See our approach to helping you succeed.

Last week we abruptly found ourselves without a network administrator during a very challenging week, so we reached out to Source One Technology for support. I was blown away – Jesse's engineers are incredibly responsive, knowledgeable, and great people to work with. I'm recommending the district to continue utilizing Source One Technology moving forward for network needs, and I highly recommend them to any other districts looking for outside support.
Casey Ineichen
Technology Coordinator
Monona Grove School