If you're responsible for the IT in schools, the BrainStorm 2017 K20 Conference is a 'must-attend' event.  We've been going for the last few years, and as well as getting to share what we do with attendees, BrainStorm is also a great place to learn about what's keeping IT professionals in schools up at night.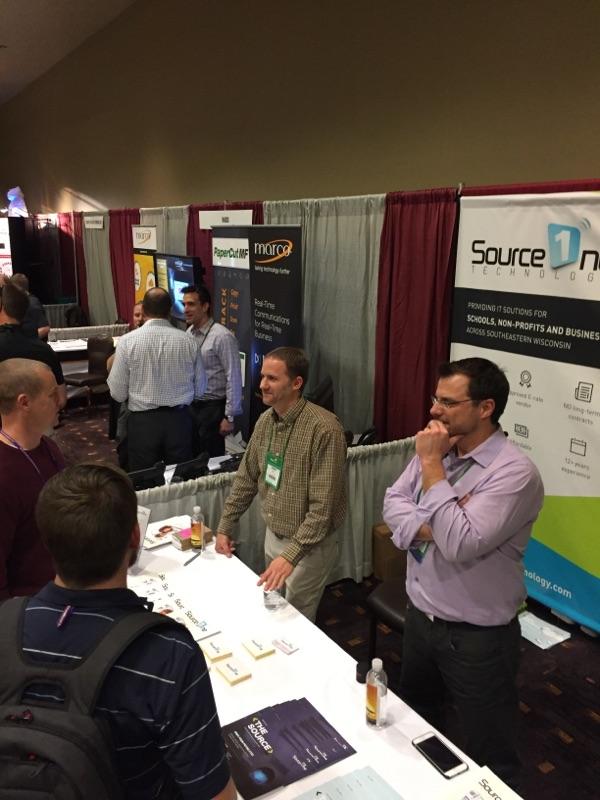 This year, Source One Technology engineers Glenn Thomas and Patrick McHugh were asked once again to present.  Patrick discussed how regular use of monitoring tools like PRTG  help prevent issues appearing on your school's network, and Glenn walked delegates through the 'Steps to Image Deployments using MDT (Microsoft Deployment Kit)' as an automated deployment alternative to (WDS) Windows Deployment Services and SCCM (System Center Configuration Manager).
"BrainStorm is always a great opportunity to meet the techies responsible for making school networks reliable and secure," says Patrick.  "I  was presenting alongside Ryan Jonas of the Greendale School District and the event was an excellent forum to share our experiences and exchange ideas on network monitoring.  There was hardly a spare seat, and we had lots of really good questions from the audience."
"We also get to catch up with a lot of our school customers at the event," adds Glenn.  "It's always good to see how schools are using technology and hear what the hot topics are right now.  This year Windows 10 deployments and security appear to be high on the agenda for everyone."
As a team of bona fide network engineers, Source One Technology often get asked a lot of questions about specific technical issues, and in addition to presenting at events like BrainStorm, share their technical expertise and knowledge on their company blog and their free magazine "The Source, which you can download below.
Resources:
Steps to Image Deployments using MDT – Brainstorm 2017
'The Source' – free quarterly magazine for techies and nontechies alike
The Source One Technology Blog