Software-defined technologies have gained tremendous momentum in the enterprise datacenter. In fact, most organizations when looking at storage refreshes today are considering software-defined technologies as a replacement for traditional storage architectures such as iSCSI and Fibre Channel SAN, NFS, and others. The predominant leader in this space is VMware vSAN.
Over the past few releases of vSAN, the technology has become increasingly powerful and packs more features than ever before. This is certainly the case with the latest release of VMware vSphere 6.7 Update 1 and vSAN 6.7 Update 1. Customers looking to migrate their storage infrastructure from the traditional SAN technologies and architectures to VMware vSAN certainly want to keep in line with vSAN deployment best practices.
Deploying VMware vSAN
Keep in mind there are a number of considerations that go into provisioning any type of infrastructure correctly, including vSAN. In this post, we will look at 5 Best Practices in Deploying VMware vSAN that serve to cover the basics of planning, sizing, and deploying a vSAN cluster including:
Only use VMware certified hardware
Size the vSAN cluster storage appropriately
Determine the number of vSAN hosts and size them correctly
Design the vSAN network correctly
Do NOT use unbalanced clusters
It is important to consider these and other best practices during the deployment phase of VMware vSAN as it is much more difficult to change decisions and possible hardware implementations after the fact. It is much easier to design the environment correctly on the frontend and avoid deployment issues as a result.
1. Only use VMware certified hardware
When designing and building any type of infrastructure, you want to stay within the specifications of the software or hardware vendor when placing the hardware or software into production. Why is this? There are two main reasons: staying within a supported condition, and ensuring the software and hardware performs and functions as designed without unexpected issues or instability. Why is support crucially important? Any type of mission-critical, production infrastructure needs to be in a supported condition from both a hardware and software perspective. This ensures that if there is an issue in the production environment, you will be able to call up the software or hardware vendor and get support for the issue being experienced.
The worst-case scenario would be to have a "production down" situation with business-critical infrastructure, call up the vendor, and then be told the environment is outside of the support requirements for assistance with the issue.
In terms of thinking about VMware vSAN, you always want to stay within the supported VMware certified hardware list which means that VMware has basically put their stamp of approval on the specific hardware being used. VMware has provided really great resources to determine hardware compatibility and make recommendations on combinations of hardware to use. One of these resources is the VMware Compatibility Guide for vSAN. The guide provides a very wizard- like selector where customers can pick and choose the characteristics and requirements they need to see in their vSAN deployment and use the compatibility guide to display the results of hardware from various vendors that fits those requirements. These are displayed in terms of VMware vSAN ReadyNodes.
What is a ReadyNode?
vSAN ReadyNode is a validated server configuration in a tested, certified hardware form factor for vSAN deployment, jointly recommended by the server OEM and VMware. The vSAN ReadyNodes are ideal as hyper-converged building blocks for larger data center environments looking for automation and a need to customize hardware and software configurations. These are turnkey solutions.
[cs_alert heading="Tools and resources" type="success" close="false"]VMware Compatibility Guide.
[/cs_alert]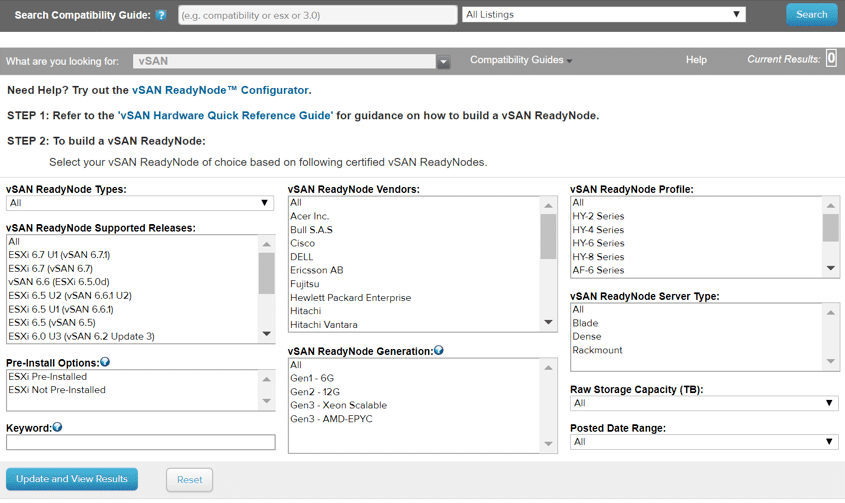 The VMware vSAN Hardware Quick Reference provides sample server configurations as directional guidelines for use with VMware vSAN.
[cs_alert heading="Tools and resources" type="success" close="false"]VMware vSAN Hardware Quick Reference.[/cs_alert]
2. Size the vSAN cluster storage appropriately
A crucial area of consideration in deploying VMware vSAN successfully and in accord with VMware best practices is sizing the vSAN cluster storage appropriately. With VMware vSAN it is extremely important to give attention to the amount of storage needed in the vSAN cluster not only for the virtual machines that will reside on the vSAN storage but also to handle failures and maintenance operations.
Since VMware vSAN is a software-defined storage solution, it uses various software and algorithm techniques to create additional copies of the data on disk. One of the key aspects of the vSAN storage environment is considering the Primary Level of Failures to Tolerate (PFTT). This plays a key role in sizing vSAN storage capacity correctly. The number of failures to tolerate is a decision that is made when configuring your vSAN cluster and results in the amount of consumption of storage.
As an example of how PFTT weighs into the storage consideration and the overall consumption of usable storage, consider a PFTT set to RAID-1 (mirroring). This means the PFTT is set to 1 and the virtual machines will use 50 percent of the capacity of the vSAN datastore. If you up the PFTT to 2, the useable capacity drops to about 33 percent instead of 50 percent. PFTT of 3 results in 25 percent useable capacity. There is a better use of space in a couple of different scenarios as well. When you have at least 4 nodes, you can use RAID 5 erasure coding and when you have at least 6 nodes you can use RAID 6 erasure coding.
With erasure coding, the useable amount of space is increased from the mirroring mechanism with a lower number of hosts. With all flash vSAN, you can also have deduplication and compression which greatly increases the amount of useable space.
Other best practices include keeping at least 30 percent unused space to keep vSAN from rebalancing storage as this happens when storage consumption reaches 80 percent or more. Also, plan for extra capacity to handle failures or replacement of capacity drives in disk groups. Also, provide enough extra capacity to make sure the vSAN cluster can recover components after a host failure or when entering a host into maintenance mode.
3. Determine the number of vSAN hosts and size them correctly
As mentioned in the above section, determining the number of vSAN hosts has an impact on the type of Primary Level of Failures to Tolerate and the configuration you can use for this. As mentioned, to configure RAID 5 erasure coding you need at least 4 hosts in the vSAN cluster. For RAID 6 erasure coding you need 6 hosts. While the discussion so far has been around the storage aspect, space, how failures are tolerated, etc, the number of hosts needs to be considered for the traditional requirements of compute and memory for production workloads.
After all, you don't want to have terabytes of useable storage only to exhaust the CPU or memory resources of the nodes in the vSAN cluster. The requirements of the workloads will need to be measured and considered when determining the number of vSAN hosts and how they are configured from a compute and memory perspective.
It should be kept in mind there is around a 10% overhead on CPU from vSAN and there is also memory overhead to be considered as well with vSAN.
[cs_alert heading="Further reading" type="info" close="false"]VMware has a really in-depth KB article Understanding vSAN memory consumption in ESXi 6.5.0d/ 6.0 U3 and later (2113954). This goes into detail about how memory consumption is handled with vSAN.[/cs_alert]
4. Design the vSAN network correctly
One of the most important aspects of VMware vSAN is the vSAN network. Failing to consider and design the network correctly will certainly lead to disaster in deploying VMware vSAN. After all, the network is the underlying mechanism that allows the vSAN storage subsystem to function. There are several best practices when it comes to designing and deploying the vSAN network including the following:
If you plan to use hosts that have 1-GbE adapters, dedicate adapters for vSAN only.
For all-flash configurations, plan hosts that have dedicated or shared 10-GbE adapters.
If you plan to use 10-GbE adapters, they can be shared with other traffic types for both hybrid and all flash configurations.
If a 10-GbE adapter is shared with other traffic types, use a vSphere Distributed Switch for vSAN traffic to isolate the traffic by using Network I/O Control and VLANs.
Create a team of physical adapters for vSAN traffic for redundancy.

The Network Performance Test found in the Proactive Tests in the vSAN Monitor section in the vSphere client allows proactively testing the network health of the vSAN network. If tests fail, these should be resolved before placing a cluster into production.
VMware vSAN is certainly reliant upon the underlying network carrying the vSAN storage traffic. A poorly configured network will result in poor vSAN performance and unreliable behavior. Following the above VMware best practices for the vSAN network will lead to vSAN deployment success.
5. Do not use unbalanced clusters
What is an unbalanced cluster? This is a cluster that does not contain hosts that have a uniform hardware configuration. What issues might this result in? This impairs consistent and predictable storage performance as vSAN may not store the same number of components on each host. There may also be different components requiring different maintenance procedures. Additionally, if the cache devices are different between hosts with some cache devices performing better than others, there may be reduced performance on the hosts that have smaller or lower performing cache devices.
It is a recommended best practice to use uniform clusters containing identically configured hosts with the same hardware components. This allows having a consistent performance footprint for workloads regardless of which host they reside on. Using the same certified VMware ReadyNodes in the cluster will result in solid, consistent, and reliable performance and stability for workloads.
Final thoughts
VMware vSAN is an incredibly powerful software-defined storage solution that allows organizations to do things with virtual machine storage that are simply not possible with traditional storage technologies. As the decision is made to transition from traditional storage to VMware vSAN, organizations need to consider various best practices during the design and deployment phase. Failing to deploy vSAN correctly according to best practice considerations can result in poor performance and instability of the environment in general.
These 5 best practices in deploying VMware vSAN shed light on just a few of the top considerations that need to be made. Following these and other best practices will ensure VMware vSAN deployment success.